It is the first time I'm partisipating in this challenge and I'm very honored to be let in it. :) The beautiful Toni accepted my question about joining, so here is my first contribution.
This time we were asked to write about the forthcoming Christmas.
Since I'm not the biggest fan of Christmas I thought I could share with you how I'm planning on celebrating Christmas this year. Alternative Christmas for definite as I'm going to Spain.
Me and my hubby have been celebrating both Norwegian and English Christmas the four Christmases we have celebrated together. Mike is more traditional when it comes to Christmas than me. I have never been used to celebrating Christmas that extensivly as my family was very relaxed and did not have a big celebration. My parents are sadly dead, so no big ties to Norway either, so this year we decided to go away for the holiday.
Mike's sister has got a house in Spain so we are going there to just have a bit of a different Christmas. I don't think we will be doing much of it out there really. We will probably be having a barbeque on Christmas Eve in the garden and make lovely food together, opening some presents together that we have brought with us and if the weather permits it maybe go to the beach for a long walk or sunbathing. On Christmas Day we will be going out for a Christmas Meal. We will just have a very low key Christmas, so not the most exciting to write about.
However, since we are going out for the meal on Christmas Day a lady needs a show stopping outfit, so here are the items I have lusted for so far.
And just to end off this post I post some traditional Norwegian Christmas pictures. (Norwegian Christmas is quite similar to English, but if you want to learn more about it please check out Wikipedia's article about it
HERE
)
Typical Norwegian Father Christmas called Julenisse
It's very common to sing carrols and walk around the Christmas Tree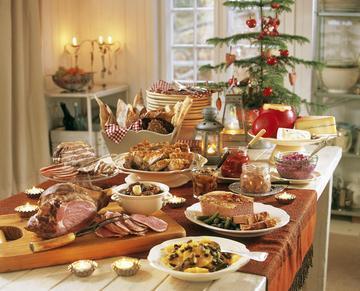 Norwegian Lunch Table
Norwegian Christmas Food
Norwegian Christmas Cakes
Norwegian Christmas Decorations
Norwegians put out a bowl of porridge for the Julenisse
Go take a look how the girls in the challenge celebrate their Christmas.
How do you celebrate Christmas? Do you like Christmas or don't you care?