Just like my mum, I have always had very sensitive skin. That means that it gets itchy and dry very easily and in winter it can crack and be quite painful. I have never had to do much to my skin apart from making sure that in winter it stays moisturised, but as I have got older I have noticed the need for more and more skincare. I love Simple's products and Avene's products as they are mild on my sensitive skin. I also like skincare that is quickly done as I never have enough time....
I'm a big fan of make up remover wipes instead of make up removers, so the other day when I went to the shop they had an offer on for Simple products. I decided to try two of their types of wipes as I haven't tried any other than their normal facial wipes.
One of them is the Kind to Skin Exfoliating Facial Wipes.
I tried them after removing my make up with another make up removing wipe. I used the exfoliating side of them first and then went over my skin with the smooth side. My skin felt very good and the exfoliating did not seem to harsh on my sensitive skin. I normally try to exfoliate my skin only a couple of times a week since I think most exfoliaters are very tough on my skin. With these wipes on the other hand I think I could exfoliate every other day. And to be honest, you wouldn't have to use them everyday as the day after using them the skin still felt very smooth and soft. I used my trusted moisturiser from Avene after and my felt better and I thought it looked better the next day as well. I think these wipes will be the new staple in my toilet bag from now on, especially on travels since they are multi purpose and are light weight. These wipes get a definitely recommend from me.
The other wipes I bought are the Simple Radiance Brightening Cleansing Wipes. First of all these wipes smells really nice of mango which is nice as a change to other wipes. I tried them on days in between using the exfoliating wipes and they work well to remove make up. I couldn't really see any other advantages with them than normal make up remover wipes and they are more expensive. If they had not been on offer I probably wouldn't have chosen them due to the price. After trying them I would say that these are good wipes for removing make up and they smells good, but they are more expensive than other wipes in Simple's range, so I won't be buying them again.
What skincare products are your personal favourites? What kind of skin type do you have?
My trusted skin care products are these.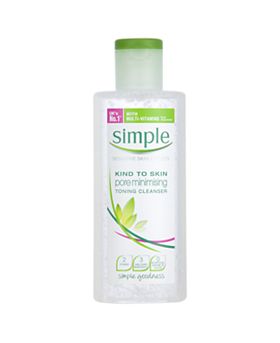 Brightening wipes to left, exfoliating ones to the right.